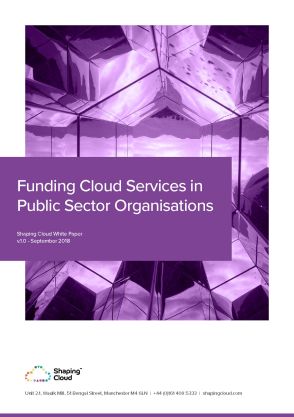 Format:
Size:
Published: 10 September 2018
Category: Whitepapers
Funding Cloud Services in Public Sector Organisations
Cloud computing can create some challenges for the finance teams because it means that software and technology are now being purchased 'as a service'.
The use of whole life costs (or total cost of ownership (TCO) will allow for a proper option appraisal and comparison, though concerns exist that the selection of the preferred solution may be influenced by public sector funding models.
Fill out the form below to receive your copy of this exclusive document.
Shaping Cloud needs the contact information you provide to us to contact you about our products and services. You may unsubscribe from these communications at anytime. For information on how to unsubscribe, as well as our privacy practices and commitment to protecting your privacy, check out our
Privacy Policy
.
Thanks for submitting
Check your email for your download