Cloud is what we know and it is who we are. Formed in 2010, we have seen the ever growing impact of the technology within the public sector. We have also seen the term be misappropriated by hosting providers who view it as a new marketing tactic. Our mission is to help clients cut through the noise and get clarity on what cloud means for them and their organisation.
Our Mission:
Inform, Plan & Deliver
We believe that public and hybrid cloud provide a unique opportunity for the public sector to re-imagine the way services are delivered and drive better outcomes for staff and citizens alike.
Our products and services have been designed to inform, plan and deliver partner organisations as they transform their IT delivery and continue on the path to digital transformation.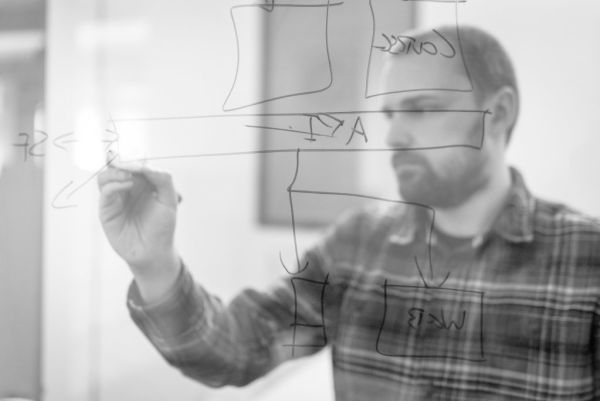 Our Approach:
Partners not Providers
What we do:
Inform you and your team on what cloud means for your organisation
Advise you on what the business case and strategy is for cloud adoption
Guide your organisation to ensure that you are in control of your own transformation.
What we don't do:
Shaping Cloud do not make money from hosting.
Shaping Cloud do not resell hardware or software.
Shaping Cloud do not do outsourcing.
Our company was formed from a genuine belief and passion for the opportunity that public and hybrid cloud offer. We have already seen the technology disrupt many of the poor practices within the I.T. industry. We work with our partners on turning that disruption into their advantage.
Our Team:
Technical Expertise & Sector Experience
Power without control is nothing. Our technical knowledge and understanding of all the features within the Microsoft Azure platform counts for nothing if it is not aligned to a deep understanding of our clients needs and challenges.
Our team includes ex-CIO's from Healthcare and Local Regional Government as well as Programme Managers and Enterprise Architects to ensure that we deliver outputs and outcomes
Carlos Oliveira
CEO & Founder
Founder of SPINR, Carlos has been advocating how the use of a SOA approach based around API's can provide the platform for true transformation in the Public Sector. Aside from SPINR he is also the Chair of the techUK Local Public Services Committe that aims to improve the engagment between the public sector and the IT industry.
Daniel Roach-Rooke
Principal Consultant
A senior IT Leader with almost 25 years' experience across many diverse industry verticals. Strong leadership and team development skills with a strategic vision which is grounded in a broad, deep technical background, with sharp commercial acumen. An ambassador for IT in the business and a trusted advisor to provide best practice solutions, leveraging both internal and external stakeholders and outsourcing partners.
Helen Gerling
Managing Director
A trusted strategic leader at CIO and Director level in public sector, with a successful track record of designing and delivering drift-free large scale digital and transformational programmes.
Mark Melvin
Commercial Manager
Demonstrated history of working with and growing businesses in the information technology and services industry in the UK and MEA region. Experience of direct sales and developing partner relationships.
Mark Quartermaine
Non Exec Chairman
Mark has over 33 years experience in the ICT industry. He started his career at IBM, holding exec roles in both the UK and abroad, and subsequently worked at BT Global Services as UK President then more recently as the CEO at both Azzurri and Alternative Networks. Having sold Alternative to Daisy in 2017 he left to pursue a portfolio career. As well as his role at Shaping Cloud he is also the senior independent non exec at Table Tennis England, a non executive director at SysGroup plc, as well as Non Exec Chair at Footdown and Natterbox.
Martyn Forrest
Chief Strategy Officer
A senior public sector IT professional with over 25 years experience at Director level and a successful track record of delivery, including successfully implementing information systems in healthcare settings. Martyn joined Shaping Cloud in 2017 to oversee and steer our consultancy operations.
Tom Carter
CTO
Tom is CTO of SPINR and the technical genius behind our Integration technology. A true polymath, Tom has deep expertise across all the core areas of the platform such as Data Wrangling & Virtualisation, Ontology Mapping and API Management.
Our Culture:
Trust, Honesty and The Pursuit of Happiness
We spend around 20% of our lives at work and so it makes sense to try and make that time enjoyable, challenging and rewarding.
The key to any successful culture is trust — at Shaping Cloud we ask our clients and partners to trust us and so it is imperative that we replicate that trust internally. Flexible working policies mean that our people are able to work in the way that best suits them and their own family commitments When you track progress by outcomes rather than hours at a desk it automatically changes people's perceptions of work and the role it plays in their lives.
The next big pillar of our culture is honesty — things go wrong, people make mistakes, projects don't go to plan — what's important is how you respond. At Shaping Cloud we don't hide from mistakes or failures, we embrace them. So much so, that we have a monthly award for staff called the "Howell-er of the month" named in honour of James Howells who threw away a hard-disk containing millions of pounds worth of bitcoin.
The last and some would say most important aspect of our culture is fun (or the pursuit of happiness). We believe that you can marry expert delivery and professionalism with a sense of enjoyment. Monthly team outings, staff barbecues and company off-sites are there to encourage our team to build the types of genuine friendships from which trust and honesty naturally flow.